Senior Spotlight: Noah Walker
This week's senior spotlight is on Noah Walker. Since 6th grade, Noah has been a great friend to everyone at RMA. Although he doesn't say much, Noah's kind, gentle, and sincere personality speaks volumes.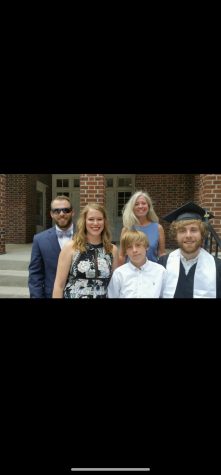 Academically, Noah has been taking challenging courses such as AP Biology and AP Psychology. Outside of the classroom, Noah loves to play soccer for RMA where he is a key player on the team. He also spends time volunteering and doing community service around Rocky Mount. When he is not participating in school-related activities, Noah enjoys spending time with friends and going fishing. Noah isn't the talkative one among his friend group, but he is someone that they can always count on to be there for them.
Unfortunately, this is the last year Noah will be here at RMA. Noah is looking forward to attending East Carolina this fall. Everyone here at RMA wishes Noah good luck as he pursues success in college. 
"Noah is a dependable friend who is always ready to go anywhere or do anything at a moment's notice. He also sometimes knows about completely random things that you wouldn't expect, but can sometimes be useful." -Ishan Patel
"Noah's a great friend and always is willing to help others." -Daniel Cooper
Keep reading to learn more about Noah!
Favorite place to eat?

Chick-fil-a.
If you could have dinner with anyone dead or alive, who would it be?

Robert Lewandowski.
Best sporting event you have been to or experienced?

UNC vs Duke basketball game.
Favorite quote(s)?

"There may be people that have more talent than you, but there's no excuse for anyone to work harder than you do." – Derek Jeter.
Favorite TV show(s)?

All-American.
What has been your favorite memory of RMA?

Playing soccer and being with my teammates.
What are three words to describe yourself?

Quiet, honest, and sincere.
Any advice to future RMA seniors?

Value every moment you have of senior year.
What are you looking forward to the most about college?

Meeting new people and going forward with my life.