A Superb Start to Spring Sports
Hang on for a minute...we're trying to find some more stories you might like.
Eagle Athletics have taken off this spring in full swing! All of our teams have started the season off with flying colors. Below, you can see a conglomeration of pictures and information pertaining to the seven sports we have available to students this spring season.
Baseball
Rocky Mount Academy's varsity and junior varsity baseball teams have both had great starts to the season! So far, the JV team has played 5 games. As for the Varsity Baseball team, as Thomas Griffin says, "We have played Freedom Christian Academy, RMA won 12-3; Harrells Christian Academy, RMA won 8-7; Village Christian Academy, RMA won 14-5; Grace Christian, RMA won 8-4; Oakwood, RMA won 15-0. We are 5-0 and play Harrells Christian Academy again on Thursday, 3/22." I think it is pretty safe to say that our baseball teams will be [a] force to be reckoned with this year! We can't wait to see what they will do!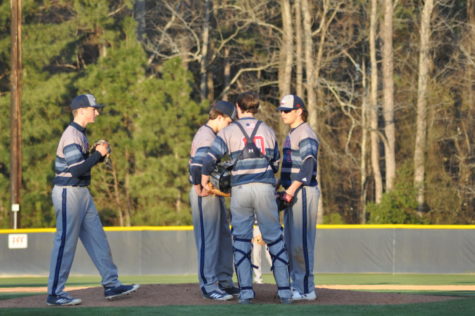 Softball
Our Softball team is also proving their talent so far this season. They have an overall record of 4-1, and the only game they lost was by 1 point to Harrells! They have defeated Village Christian Academy, Parrott, Bethel Christian Academy, and Oakwood. Their next home game is on March 29 when they play North East Carolina Prep; try to come out and support our Lady Eagles!
Tennis
The Varsity boys tennis team has hit a couple of rough patches so far, but have definitely held their own! Senior (and 1st seed player) Trey Smelcer commented "We have played Wayne Country Day, Parrott, Epiphany, and Ridgecroft. We are 1-3 so far, but Parrott is the #2 ranked team in the state, and we had tight ones with Epiphany and Wayne Country Day."
Soccer
Our Lady Eagles have done very well this seasons so far! The JV Girls Soccer team, while they have a short schedule, have held their own and won their first game! The Varsity Girls Soccer Team has had a fantastic season so far! Team member and sophomore Haley McCall received the sportsmanship award for Rocky Mount Academy in the Brittany tournament, where our team won against North Johnston County with a score of 7-1. Sophomore Megan Seale describes the rest of the season so far, saying "We mercy ruled (which means the soccer team won by a score of 9-0, ending game play early) Village Christian and Harrells. We also beat Epiphany 8-0. Overall, we are 4-2, and 1-0 in the conference." Great job girls!
Track and Field
The 2018 Track and Field team is off to a good start for the spring season. They have completed one meet at the Eastern North Carolina School for the Deaf. Their next meet will be Tuesday, March 27th. With no seniors on the team, the young team is improving every day, and we can't wait to see what they can accomplish this year!
Golf
This year's Eagle's Golf Team is seeming to have one of their best seasons yet. Senior member Caleb Lambert commented on the team, saying "The golf team has had one match that was at Ironwoods CC and we won by 22 strokes. I shot 44, Chris Gardener shot 38, Paul Larimer shot 42, Ian Friar shot 47, and Will Tharin shot 49. As of now we are number 6 team in state and hope to make states this year for the first time in a very long time." Go Eagles!
Shooting Team
RMA's Eagle Fire Clay Shooting Team works slightly different from the other sports available during the spring. They meet every Sunday to practice at Rose Hill, and then normally compete in a tournament, as well as have a Family Fun Day Shoot, at the end of the season. For this reason, there are no statistics available yet for the shooting team, but practices are starting up and we know that the team will make Rocky Mount Academy proud during their tournament!