"Some Play" : MS Play, Charlotte's Web
Hang on for a minute...we're trying to find some more stories you might like.
It was a cold Friday night, and the way the air stood still and made breath catch which just intensified the chill. Lauren Seale, the Media Office photographer, and I made our way into the back entrance of the infamous Imperial Centre in downtown Rocky Mount. Stepping into the back of the theater, we were greeted by an excited Wilbur and Hotdog, all grins and jitters for their upcoming performance. I already had high hopes for this play, having heard praise from friends who had seen it the previous night. The energy and excitement of the cast was infectious even before they stepped foot on the stage, and I, as Lauren and I set up the camera to record, could not wait until show time at seven.
Charlotte's Web is a thought-provoking story about the friendship between a sweet, innocent pig named Wilbur and the kind Charlotte, who determines that Wilbur will not meet the same fate that so many of his piggy friends have met. Having been rescued by the tender-hearted Fern, Wilbur is raised on milk and table scraps until Mr. Arable, Fern's father, decides to sell him to Mr. Zuckerman, Fern's uncle. In his new home, Wilbur is pleased to be able to often receive visits from Fern, but struggles with fitting in with the other farm animals, the kind Goose and Gander, the sassy Sheep and Lamb, and the greedy Templeton. Finally, Wilbur finds a friend with the wise Charlotte, who attracts Wilbur's attention by spinning "radiant" adjectives into her web above his pen, giving him enough notice to send him to the county fair. There, after many happy months of friendship,  Charlotte spins her "humble" last word into her web and dies, leaving her egg sac as the only thing to remember her by. Determined to keep Charlotte's memory alive, Wilbur takes the eggs back to the Zuckerman's farm, dutifully watching over the eggs until they hatch, all 514 of them! The fruits of Wilbur's labor are rewarded soon after, with three of Charlotte's spider daughters deciding to stay with him on the farm, Joy, Nellie, and Aranea. A classic for all elementary-aged kids, Charlotte's death for many was the first heartbreaking blow they would discover in a book.
Anticipation grew as the lights dimmed and Mrs. Harrell stepped onto the stage, giving instructions and thanks to everyone who helped with the play. Shortly after, the three lovely narrators, sixth graders Prisha Patel and Juhee Desai and seventh grader Mari Robin Tharin, came out, giving us vital background information about sweet Wilbur, played by Adrienne Mosely, and tender-hearted Fern, played by Audrey Roeder.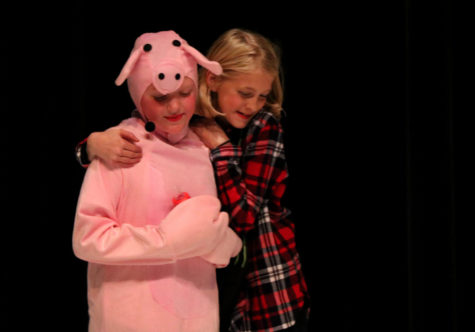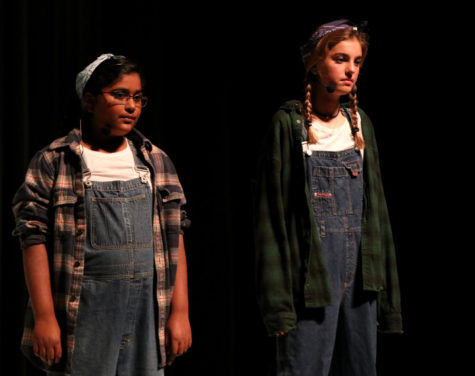 The audience waited in suspense as the fate of Wilbur was decided between Mrs. Martha Arable (Walker Rose) and Mr. John Arable (Landen Sheeler), cheering when a final verdict was drawn for Wilbur to be sent to the Zuckerman's farm, owned by Mr. Homer Zuckerman (Ezra Moore) and Mrs. Edith Zuckerman (Caitlin Meffen). Comic relief was often provided by Fern's brother, Avery Arable (Michael Minton) and the Zuckerman's farm hand, Lurvy (Finn Grimes).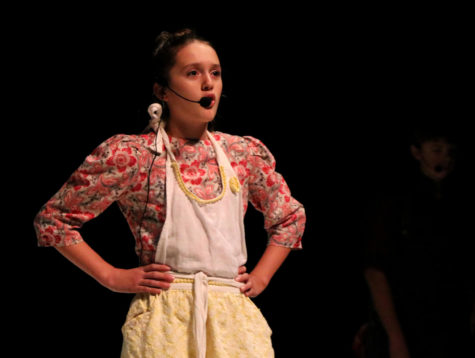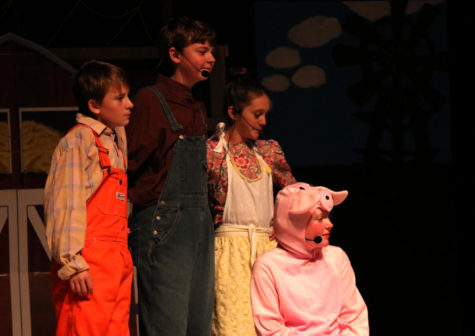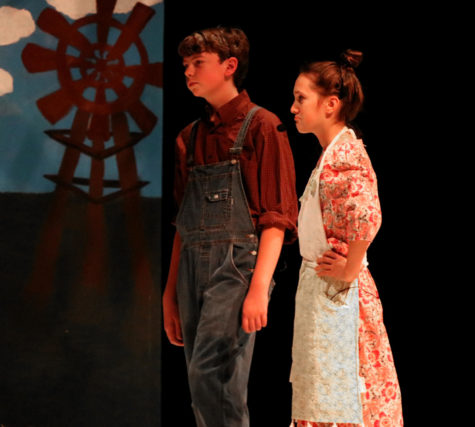 Upon arrival at his new home, Wilbur was given a top dose of southern hospitality by the wonderful, wonderful, wonderful Gander (Vann Davis) and the motherly, motherly, motherly Goose (Virginia Feagans), which was a nice break from the sassy Lamb (Oliva Baule) and Sheep (Madisyn Rogers). Of course, the farm would not be complete without Templeton (Macie Barnes), the greedy rat. But, with the friendship and wit of Charlotte (Paige Brown), Wilbur was sure he could survive anything.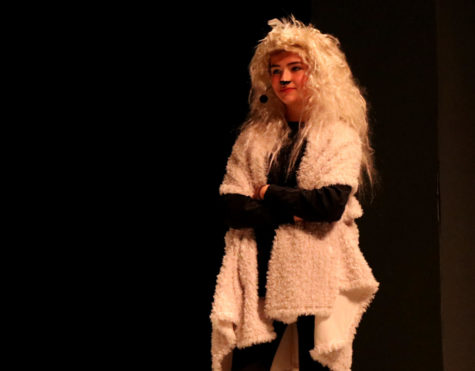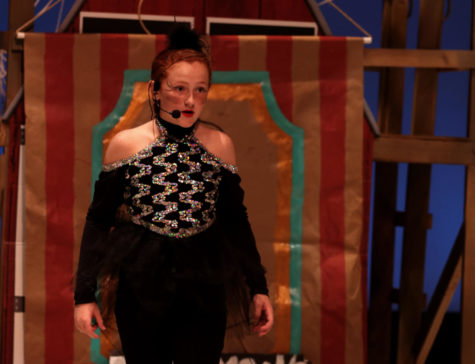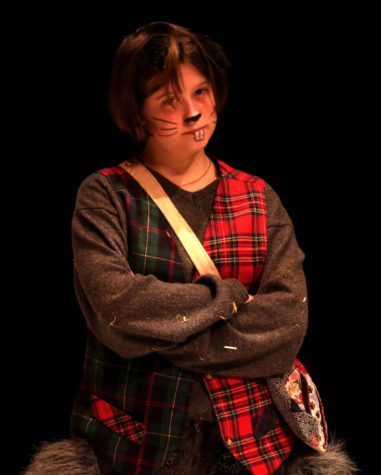 The second act, which commenced after a seemingly too long intermission, brought us to the county fair in Wilbur's world. There, we met Uncle (Kristen Webb) and saw another appearances of the Reporter (Sarah David) and Photographer (Caylie Stutts). The Announcer was also another familiar face, Vann Davis nailing his check-giving-away skills when Wilbur won a special prize at the fair. Though, I must admit, one of my favorite parts of the second act was the excellently talented dancing hotdog, brought to us by Greyson Thorne.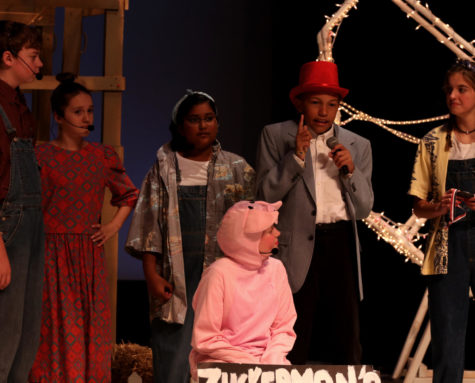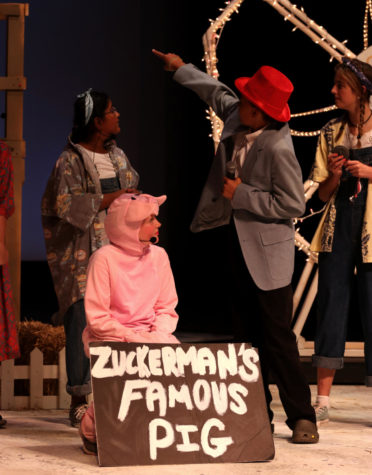 At the end of the play, the moment I knew would come but was still disappointed when we reached it, was marked with a bittersweet moment. With 511 of the deceased Charlotte's babies going about their merry way, the naming and loyalty of 3 of her lovely children, Joy (Brianna Smith), Nellie (Caylie Stutts), and Aranea (Greyson Thorne) was beautiful as well as heart-wrenching. Thankfully, their adorable outfits and gentle smiles made the semi-sad moment much more bearable. Unsurprisingly, the end of the play was met with thunderous applause.  
Although excellent, the production of Charlotte's Web would not have been possible without an amazing crew. Senior Anna Penwell dedicated many long hours working as Assistant Director, as well as Ms. Cameron Covolo, beloved middle school English teacher. Marilyn Toffton was an incredible understudy and help to the cast, as well as prop mistress, Tori Jones. The set was beautiful drawn and painted by freshmen Gracie Tharin and Mason Kolesar, sophomore Mary Marshall Martin, and senior Taylor Connie. Charlotte's "remarkable" web and loft was made by Mr. Watson Lancaster. Sound and lights were manned by freshman Krutik Patel and sophomore Ishan Patel (respectively). Stagehands (those who help hand out props and keep the cast on track)  included freshmen Gracie Tharin, Emory Pittman, and Mason Kolesar as well as sophomore Mary Marshall Martin.
As Lauren and I packed up the camera, headed the lobby of the Imperial Centre to greet these now seasoned actresses and actors, their post-play buzz and excitement was infectious. As the cast giddily recalled their favorite parts to family and friends who had kindly came out to see them made me smile, vivaciously remembering the feeling of doing something you love with a cast you love more beating in my heart. Mrs. Whitehurst, the awesome Drama Department director and director of Charlotte's Web best described the experience by saying, "I am always amazed at the talent pool at this school. We have some truly gifted performers! I am equally amazed at how hard these middle schoolers were willing to work. They practiced 4 days a week for 11 weeks, and even came during study hall and flex to practice. Their level of commitment is remarkable. I am so proud of the cast and crew, they make my job very rewarding indeed."  
As we walked back out to the bitter cold, Lauren and I both agreed that this wonderful production had truly been "some play."  
*Special thank you to…
Eric Xue for allowing the Media Office to use these photographs
Ms. Brooke Edwards for allowing RMA to us the Imperial Centre
Mr. Jim Zervas, the set designer at the Imperial Centre
Ms. Beth Covolo
Mrs. Katherine Bryant
Mrs. Gloriane Jefferys, Joe Cockerell, Trey Smelcer, and Guy Deyton for transporting countless items to the Imperial Centre, including the amazing ferris wheel
Elias Moore for building the amazing ferris wheel
Mr. Joe Sparks
Mrs. Barbara Willis
Ms. Victoria Hunter
Dr. Bob Koszelak
Mrs. Amanda Harrell
The Parents of the cast and crew for their flexibility and dedication