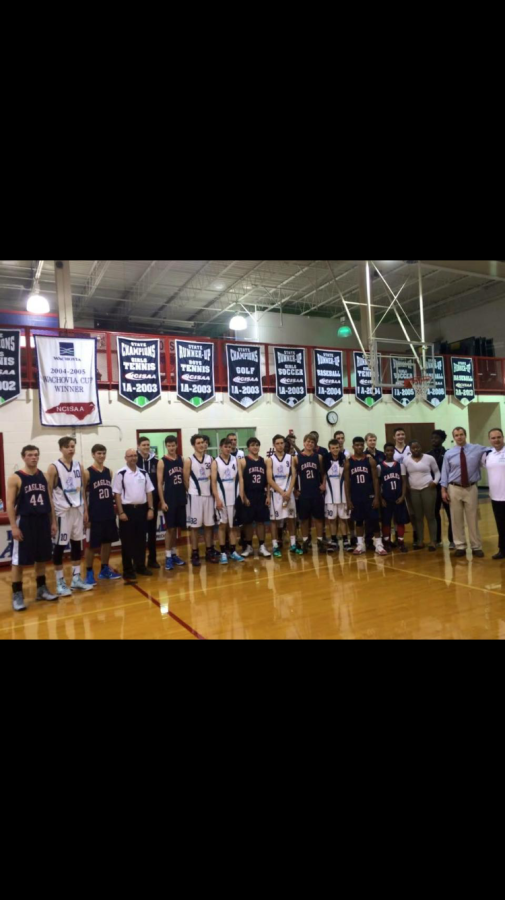 On Sunday, January 4th, the RMA boys' varsity basketball team was given a once in a lifetime opportunity and some of our favorites to play some new competition no other team in this area has played before.
Back in the spring of 2014, Athletic Director Mrs. High received a call from a travel basketball team from Australia, looking to play our varsity boys team. As it turns out, the call was from the Hume City Broncos, a U18 travel team located just outside of Melbourne, Australia. The team has decided to go on a U.S. basketball tour, traveling all over the country from New Jersey to North Carolina, and even California. Mrs. High gladly accepted the offer and was excited to watch the basketball team participate in a unique experience.
Although it was a Sunday afternoon, many fans came to the game eager to support their varsity team. The game started fast for both teams, as the score at the end of the first quarter was 21-18 with the Eagles on top. The second quarter was a little sloppier, with each team turning the ball over and getting out of sync. Throughout the quarter the Broncos began to show signs of fatigue as the Eagles up-tempo offense and swarming defense began to affect the other team. By the end of the third quarter, the Eagles were winning 44-32, but the game was far from over. The Broncos came back and even tied the game, but RMA was able to make free throws at the end of the game and lock down on defense, winning the game 55-52.
After the game, both teams went to the cafeteria to hang out and eat dinner. Team moms Gina Holland, Julia Fulcher, and Erika Acker baked desserts, ordered pizza, and put together gifts for the other team. Both teams hung out and shared stories. Before eating, each team gave the other a gift, showing appreciation for their opponent. After eating, everybody got a group picture and the Broncos got on their team bus, heading to Chapel Hill to watch UNC play the next day. When asked about the experience, Junior Kyle Holland responded, "It was cool to get to meet people from another country and learn about their culture, and be able to talk basketball with them."